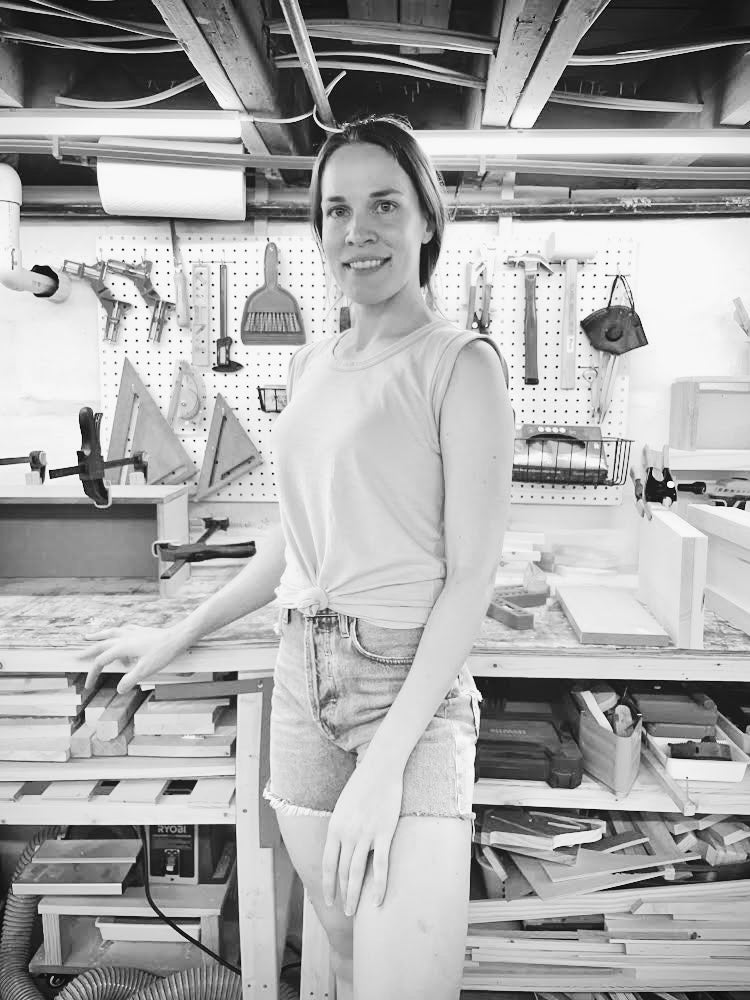 Welcome to the workshop where my creations come to life.
I feel lucky to spend my days building beautiful pieces and sharing them with the world.
Your support is truly appreciated. Thanks for visiting!
-Katie
Meet Katie
How did you get into woodworking?

I started making small woodworking projects for myself; I've always been a DIY-er. If I can find a way to do it myself, I will. I love learning and trying new things.

The combination of creativity + working with my hands and power tools is such a fun part of woodworking for me.

I've moved around a lot in life and in my career and I've arrived at a place of creative entrepreneurship that I truly enjoy and feel blessed to be here and have this livelihood.
When did you start this business?

I started this business on a whim. It was 2020, during *the pandemic*, and I decided to throw a few listings up on Etsy and see if anyone else had an interest in my work.

It took off a lot faster than I had anticipated. I'm thankful for the people who support me today and especially those who supported me in the early days.

Two years later I've taken the leap from the corporate world to dedicate myself full time to this small business. It's taken a lot of hard work and determination, but I never let anything stand in my way.
What sets your brand apart?

Carpenter Katie Co. is a brand defined by simplicity, natural beauty and mindfulness.

My focus is to build pieces that are meaningful and of great quality. Something that can stand the test of time and will be a staple piece for years to come.

My aesthetic is classic, organic and simple. I allow the beauty of the wood to speak for itself. I love everything to have a very earthy feel.

My top priorities in running this business are sustainability, minimizing waste and giving back to my local community. I also aspire to engage future generations of women and girls in the field of woodworking worldwide.
About the Pieces
Materials

All of my pieces are made of solid wood sourced from local, sustainable suppliers. The variety of wood used is indicated in the item description. Knots, variations and imperfections in the wood are natural and add to the character of my handcrafted pieces. Every piece of wood is unique and will vary slightly from what is shown in the photos.
Finishes

My pieces are finished with high quality stains, oils or paints and properly sealed for indoor use. If selecting a stained finish, please note that every piece of wood takes stain differently and there could be some variation in color from the item photos. If you need help choosing a color, please reach out via chat or email carpenterkatieco@gmail.com.
Process

Each piece in my shop is built to order and fully handmade by me. My processing time is 3-5 business days from the date the order is placed. Most domestic orders ship via USPS Priority Mail from New York with 1-3 business days shipping time depending on location.
Customizations

Since everything is built to order, customizations are welcomed! Please reach out via chat or email to carpenterkatieco@gmail.com to inquire about custom sizing/finishes and bulk or special order products.